Rockaway Beach is situated in the south part of Long Island in New York Queens district. Konigsberg grew up among other things there, on the shores of the Atlantic Ocean, near a sunny beach, between successive removals, before he became Woody Allen. He has placed his memoirs in Rockaway Beach presenting them in the comedy-drama "Radio Days" in 1987 nominated to the Oscar Award for the best screenplay. Allen remembered well the stories from his childhood attributable to late thirties and early forties (the film ends with the advent of the year 1945).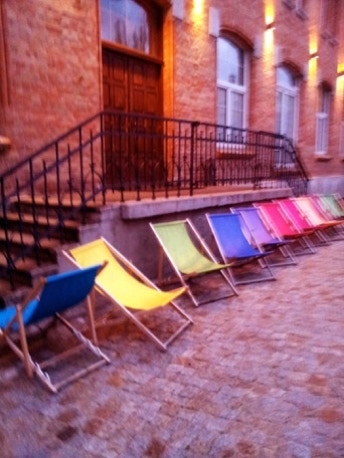 Implementation Rockaway Beach 10! refers to the first ten years of Allen's life in the context of the relationships described in the aforementioned film. Ten sun beds is also a place for ten members of the indigent Jewish family to which belongs a large number of relatives. Allen recalls:" My family was always very close – knit. Through our apartment constantly there were uncles, aunts and their children running back and forth. We moved out very often."(1)
 Later he said that due to the ongoing war and the moving in his youth, the financial situation of the family and such a large number of people, with whom he lived became the cause of his nervousness. For the implementation of the Rockaway Beach 10! I used sun beds construction with the light wood. Cloth in ten different colors was stretched on it. Objects were put in a row one by one in the outside part of the gallery Spokojna. On purpose, I did not put any information there consciously shortening the distance to the recipient. In the same way, I encouraged to expand the contact with the work through physical - bodily commitment and trigger emotions of the moment of contact with other consumers. Everything was done in order to allow customers to move freely of the particular elements of implementing over time. Almost immediately objects began to migrate by changing their settings to each other and forming strings of color. (2)
Recipients become a part of the work, the characters of the narrative, intervening involuntarily. At the same time they subject to self-observation. It quickly became clear that the work has established itself for longer than anticipated ten days. It is exposed for another season in 2014, provoking audiences to interact, and ultimately becoming a place of respite as a sunny beach in Rockaway Beach for the residents of New York City.
1 "New York Post", 1963
2 Limited to 3.628.800 possible permutations